Winlex4110 Rosin Ester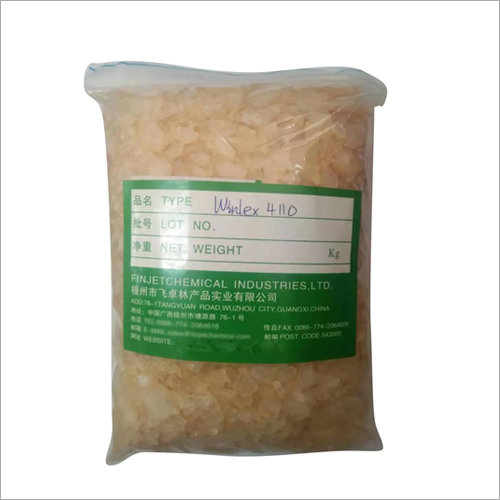 Winlex4110 Rosin Ester
Product Description
Winlex4110 is a glycerol rosin ester that has good heat stability. Use in a wide variety of adhesives due to its stability and excellent polymer compatibility. It has a suitable FDA status for use in food packaging applications covered by 175.105 175.125.
PRODUCT PROPERTIES
Specifications

Acid Value(mgKOH/g)..3-15
Softening Point, Ring & Ball, .85-95
Color....3-5
FEATURES
Soluble in aromatic and aliphatic hydrocarbon solvents(petroleum benzine, mineral spirit, benzene, ethyl acetate, acetone),esters, ketones and chlorinated solvents. Insoluble in alcohol and water.
Compatible with Ethylene Vinyl Acetate (EVA) polymers,Ethylene Ethyl Acrylate, Styrene-Isoprene-Styrene (SIS), Styrene- Butadiene-Styrene (SBS), SBR, natural rubber, butyl rubber, neoprene, acrylic, LMW polyethylene, amorphous polypropylene and other polymers and with phthalate and polyester plasticizers, alkyds, hydrocarbon resins and terpene resins.
SUGGESTED APPLICATIONS

Use in EVA, SBS, SIS, and other hot melt adhesives, Solvent-born SBR adhesives, Solvent-born natural rubber/SBR adhesives, Solvent-born natural rubber adhesives, Solvent-born Acrylic adhesives.

AVAILABLE FORMS/PACKAGING:
Flaked or Pellet, 25kg net in new paper-plastics compound sacks.
STORAGE
Stored in a dark, cool and ventilated place, far away from any heat resource and prevented against direct sunlight.
SAFETY INFORMATION
Please refer to Material Safety Data Sheet. Non-hazardous.
METHODS OF ANALYSIS
1.FinjetChemical method available on request.
Contact Us
B No. 76-1, Tangyuan Road, Wuzhou, Guangxi, 543000, China
Phone :+8613877417743