Winlex4101 Rosin Ester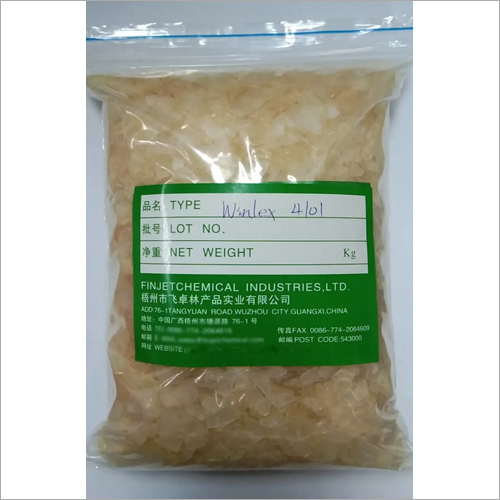 Winlex4101 Rosin Ester
Product Description
As a leading organization, we are deeply indulged in putting forward the highest grade Winlex4101 Rosin Ester to widely spread worthy clients. The proposed gum resin has multiple applications in diverse industrial sectors. With advanced processing technology, this kind of resin is precisely developed by expert personnel utilizing required chemical compounds in complete line with industry standards. Unadulterated, highly effective, and long shelf life, the proposed Winlex4101 Rosin Ester is available with us in many different grades at compromising prices with protective packaging options.
Winlex4101 is a light-colored pentaerythritol rosin ester that has been stabilized to provide excellent heat and aging stability. It provides particularly good skinning resistance and color stability in Ethylene Vinyl Acetate (EVA) hot melt adhesives. It has a suitable FDA status for use in food packaging applications covered by 175.105.
PRODUCT PROPERTIES

Specifications Typical
Acid Value(mgKOH/g)..10-20 18.5
Softening Point, Ring & Ball, ..95-105 101
Color, Gardner ,Max5 3
FEATURES
Soluble in aromatic and aliphatic hydrocarbon solvents(petroleum benzine, mineral spirit, benzene, ethyl acetate, acetone),esters, ketones and chlorinated solvents. Insoluble in alcohol and water.
Compatible with Ethylene Vinyl Acetate (EVA) polymers, Ethylene Ethyl Acrylate, Styrene-Isoprene-Styrene (SIS), Styrene- Butadiene-Styrene (SBS), SBR, natural rubber, butyl rubber, neoprene, acrylic, LMW polyethylene, amorphous polypropylene and other polymers and with phthalate and polyester plasticizers, alkyds, hydrocarbon resins and terpene resins.
SUGGESTED APPLICATIONS

Use in EVA, SBS, SIS, and other hot melt adhesives; Solvent-born SBR adhesives, Solvent-born natural rubber/SBR adhesives, Solvent-born natural rubber adhesives, Solvent-born Acrylic adhesives; construction adhesives, rubber compounding, sealants, coatings and other applications.
AVAILABLE FORMS/PACKAGING
Flaked or Pellet, 25kg net in new paper-plastics compound sacks.

STORAGE
Stored in a dark, cool and ventilated place, far away from any heat resource and prevented against direct sunlight.
SAFETY INFORMATION
Please refer to Material Safety Data Sheet. Non-hazardous.
Contact Us
B No. 76-1, Tangyuan Road, Wuzhou, Guangxi, 543000, China
Phone :+8613877417743