Guinox7115 Resin Dispersion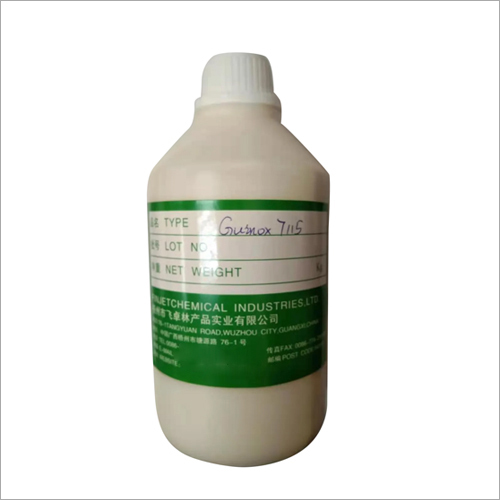 Guinox7115 Resin Dispersion
Product Description
Being in a chemical industry for years as a renowned firm, we are keenly focused in proposing the best-in-grade Guinox7115 Resin Dispersion. This kind of resin is used in diverse industries for a variety of applications like fragrances or flavors, coatings, inks and so on. At our developed processing facility, it is precisely processed by domain experts using top-grade chemical ingredients and certified formula in complete line with industry standards. Besides, Guinox7115 Resin Dispersion is unadulterated, long in shelf life, and can be availed in different grades with safe packaging at moderate prices.
Guinox7115 is a water-borne tackifier dispersion with a very high softening point. Water based fixed type adhesives formulated with Guinox7115 Dispersion will have aggressive peel and high cohesion. It has a suitable FDA status for use in food packaging applications covered by 175.105.
PRODUCT PROPERTIES

Appearance....White dispersion
Base Resin, Tg, ...+60
PH.....4.0-7.0
Total Solids Content, %.........49-51
Viscosity@25, mpa.s 30-200
FEATURES
Alkylphenol ethoxylate (APEO) free, phenol free, formaldehyde free and solvent free.
Better long term stability, Very low particle sizes, Narrow particle size distribution, Easier handling of materials.
Greater formulating versatility, Enhanced adhesive physical properties, better adhesion to glass and OPP surface, better end use product performance properties.
Compatibility with Acrylic latex, SBR latex, CR latex, EVA latex, NBR latex, NR latex and PR(SIS,SBS,SEBS)latex.
All components have REACH listed.

SUGGESTED APPLICATIONS
Tackifier for water-based adhesive, especially fixed type adhesives for use in attaching printed paper and cardboard. This Printed paper has applications in the manufacture of book covers and shopping bags.
Water-based paste-box adhesive, EVA or Acrylic Sealing adhesive for paper bag, EVA or Acrylic pasting adhesive.

AVAILABLE FORM/PACKAGING
1.Liquid, in 200kg drums or in 1000kg IBC tank.

SAFETY INFORMATION
Please refer to Material Safety Data
METHODS OF ANALYSIS
1.Finjet Test Method available on request
Contact Us
B No. 76-1, Tangyuan Road, Wuzhou, Guangxi, 543000, China
Phone :+8613877417743