Guinox6150 Resin Dispersion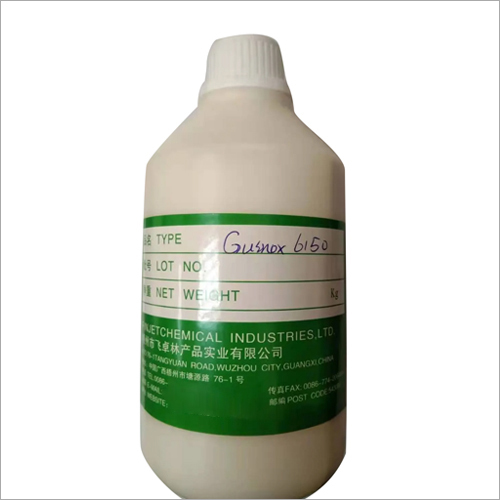 Guinox6150 Resin Dispersion
Product Description
Guinox6150 is a unique waterborne tackifier combining high solids content with high adhesion performance and stability at high speed. It was designed for Bi Modal and Tri Modal particle size Acrylic polymer which increases space packing. The use of these types of products will give improved adhesion and shear, improved resistance to humidity and improved drying due to high solids. Guinox6150 coats well at high speeds on Reverse Gravure, Slot Die and Curtain coaters. It has a suitable FDA status for use in food packaging applications covered by 175.105.
PRODUCT PROPERTIES

AppearanceOff white (free of grit)
Softening Point (R&B).......60-70
PH.....7-10
Viscosity, @ 25C., mpa.s....50-300
Total Solids Content, %.49~51%
FEATURES
Alkylphenol ethoxylate (APEO) free, phenol free, acid free, formaldehyde free and solvent free.
Low surfactant level, Moisture resistance, Improved low temperature performance.
Low foam and suitable for high-speed (Min.500m/min) curtain coater.
Unique surfactant system, Enhanced adhesive properties.
Low color/odor of base resin, Excellent mechanical stability, ease of clean-up and excellent coatability.
Compatible with acrylics , carboxylated SBR and NR polymers.
All components are ISEGA and REACH compliant.
SUGGESTED APPLICATIONS
Water-Borne Pressure Sensitive Adhesive.
Paper label, filmic label and tape. GPP label high tack and peel, modifier for low temperature label and tapes.
Water Borne Flooring Adhesive.
Construction adhesives for flexible substrates.
AVAILABLE FORM/PACKAGING
1.Liquid, in drums net 200kg, in IBC tank net 1000kg or in Flexibag net 20mt/20FCL.

SHELF LIFE

For a period of at least 6 months after shipment from Finjets production. All Guinoxs must be protected from freezing conditions. Care should be taken with handling procedures and equipment to avoid the formation of foam.
Contact Us
B No. 76-1, Tangyuan Road, Wuzhou, Guangxi, 543000, China
Phone :+8613877417743