Guinox6081S Resin Dispersion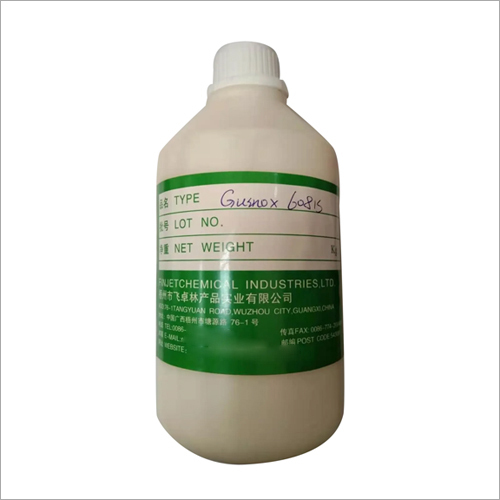 Guinox6081S Resin Dispersion
Product Description
Guinox6081S Resin Dispersion is a unique waterborne tackifier combining high solids content with high adhesion performance and stability at high speed. Pressure sensitive adhesives formulated with Guinox6081S Dispersion will have aggressive tack and peel, as well as excellent shear properties even after aging. Guinox6081S coats well at high speeds on Reverse Gravure, Slot Die and Curtain coaters. Guinox6081S Resin Dispersion has a suitable FDA status for use in food packaging applications covered by 175.105.
PRODUCT PROPERTIES

AppearanceOff white (free of grit)
Softening Point (R&B).......79-87
PH.....7.0-10.0
Total Solids Content, %.55%, or 60%
Viscosity, @ 25C., mpa.s....100-800
FEATURES
Alkylphenol ethoxylate (APEO) free, phenol free, acid free, formaldehyde free and solvent free.
Very high cohesion, Good water resistance Low foam and suitable for high-speed (Min.500m/min) curtain coater.
Compatible with acrylics , carboxylated SBR and NR polymers.
Higher Solids, less water shipped greater formulating versatility.
Low color/odor of base resin, Improved ageing resistance.
Excellent mechanical stability, ease of clean-up and excellent coatability.
All components are ISEGA and REACH compliant.
SUGGESTED APPLICATIONS
Water-Borne Pressure Sensitive Adhesive. Water-Borne Adhesive.
Paper label, filmic label and tape.
Automotive
Construction adhesives for flexible substrates
Enhance storage stability of emulsion coatings and paint film properties.
AVAILABLE FORM/PACKAGING
1.Liquid, in drums net 200kg, in IBC tank net 1000kg or in Flexibag net 20mt/20FCL.

SHELF LIFE
For a period of at least 6 months after shipment from Finjets production.
Contact Us
B No. 76-1, Tangyuan Road, Wuzhou, Guangxi, 543000, China
Phone :+8613877417743