Guinox5501 Resin Dispersion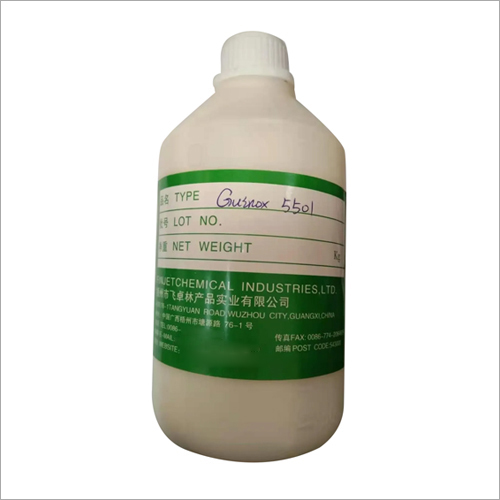 Guinox5501 Resin Dispersion
Product Description
Guinox5501 is a unique, waterborne resin for pressure sensitive adhesives, compatible with acrylics and carboxylated SBR latex. Water based laminating adhesives formulated with Guinox5501 Dispersion will have aggressive tack and high cohesion. It has a suitable FDA status for use in food packaging applications covered by 175.105.
PRODUCT PROPERTIES

Appearance....White dispersion
Softening Point of dispersed phase (R&B)95
Base Resin, Tg, ...+50
PH....4.0-7.0
Viscosity@25, mpa.s 50-200
Total Solids Content, %........50-5
FEATURES
Unique Surfactant System, Better long term stability, Very low particle sizes, Narrow particle size distribution, Easier handling of materials, Less foam generation.
Greater formulating versatility, Enhanced adhesive physical properties, Better end use product performance properties.
Compatibility with Acrylic latex, SBR latex, CR latex, EVA latex, NBR latex, NR latex and PR(SIS,SBS,SEBS)latex.

SUGGESTED APPLICATIONS

Tackifier for water-based pressure sensitive adhesive (PSA), including label, tape and special water-based adhesive for use in attaching plastic films to printed paper. This Printed Laminated Products has applications in the manufacture of book covers and shopping bags.
AVAILABLE FORM/PACKAGING
1.Liquid, in 200kg drums or in 1000kg IBC tank.

SAFETY INFORMATION
Please refer to Material Safety Data
METHODS OF ANALYSIS
1.Finjet Test Method available on request
Contact Us
B No. 76-1, Tangyuan Road, Wuzhou, Guangxi, 543000, China
Phone :+8613877417743