Guinox5300 Resin Dispersion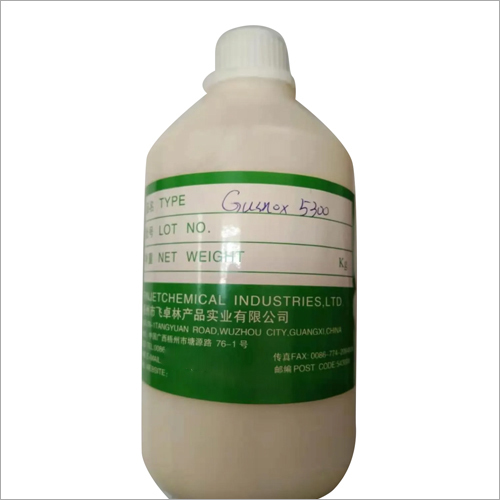 Guinox5300 Resin Dispersion
Product Description
Guinox5300 is a low softening point, waterborne tackifier for pressure sensitive adhesives. Guinox5300 can be used with higher softening point tackifiers to improve low temperature properties and to prevent cold cracking. It has a suitable FDA status for use in food packaging applications covered by 175.105.
PRODUCT PROPERTIES

Appearance .. White dispersion
Softening Point of dispersed phase (R&B)35-45
Base Resin, Tg, ...-5
PH... 6.5-8.5
Viscosity, SNB-AI 180rpm @25, mpa.s 100-1500
Total Solids Content, %....53-56
Average particle size, nm....200

FEATURES

Low softening point, Better long term stability, Very low particle sizes, Narrow particle size distribution, Easier handling of materials as the aqueous phase is added to molten resin.
Modifier for low temperature tapes and labels, Improved tack and peel performance, enhanced adhesive properties.
Compatibility with Acrylic latex, SBR latex, CR latex, EVA latex, NBR latex, NR latex and
PR(SIS,SBS,SEBS)latex.
SUGGESTED APPLICATIONS
PSAs for BOPP tape and label applications. To replace solvent assisted resin systems.
A modifier for low temperature labels, improving tack property of label.
Remmended dosage in Butyl Acrylate or iso-Octyl acrylate : 10-40%.
Water-based adhesive.
AVAILABLE FORM/PACKAGING:
1.Liquid, in drums net 200kg, in IBC tank net 1000kg or in Flexibag net 21mt/20FCL.
SAFETY INFORMATION
Please refer to Material Safety Data

METHODS OF ANALYSIS
1.Finjet Test Method available on request
Contact Us
B No. 76-1, Tangyuan Road, Wuzhou, Guangxi, 543000, China
Phone :+8613877417743