Guinox5100 Resin Dispersion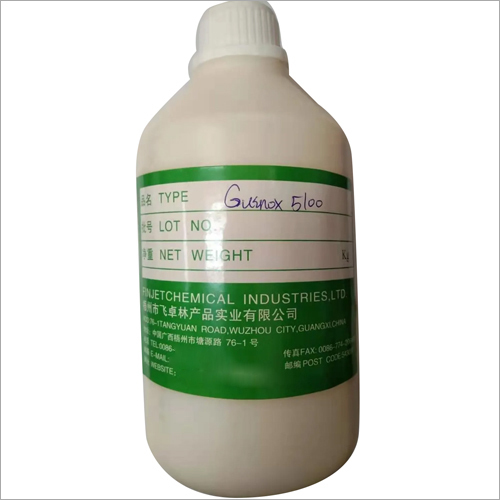 Guinox5100 Resin Dispersion
Product Description
Guinox5100 resin dispersion is an anionic, aqueous, solvent-free dispersion of a stabilized rosin ester. It is designed for use in pressure sensitive adhesives based on acrylic polymer or carboxylated SBR emulsion, where it greatly enhances peel adhesion from polyethylene. It has a suitable FDA status for use in food packaging applications covered by 175.105. All components are ISEGA and REACH compliant.
PRODUCT PROPERTIES

Appearance....White dispersion
Softening Point of dispersed phase (R&B)65-75
PH....6.5-8.5
Viscosity, mpa.s ..100-1500.
Total Solids Content, %........49-53
FEATURES
Pale color and good color retention, excellent pigment wetting, inherent tackiness, solvent - free.
Excellent adhesion to both polyolefin and carton board substrates.
Excellent balance of adhesive shear, tack and peel.
Satisfactory performance with broad range of coating processes, including high-shear.
Compatible at all ratios, or in limited but practically useful proportions, with latices and other aqueous systems of SBR, NBR,butadiene, isoprene, butyl and neoprene synthetic rubbers; polyacrylic emulsions, EVA (ethylene-vinyl acetate) copolymers and ethylene-vinyl acetate-acrylate terpolymers.
SUGGESTED APPLICATIONS
It may be used as the sole tackifying resin or as a secondary tackifier for pressure sensitive adhesive label and tape, when used in conjuction with Acrylic and SBR polymers, an excellent balance of increased adhesion to polyolefine and carton board substrates coupled with a very good cohesion level can be achieved. It is particularly recommended as a cost effective tackifier for GPP PSA labelstock.
In film-to-film and film-to-paper laminations, it enhances adhesion to low-energy surfaces.
AVAILABLE FORM/PACKAGING
1.Liquid, in drums net 200kg, in IBC tank net 1000kg or in Flexibag net 20mt/20FCL.

SHELF LIFE
For a period of at least 6 months after shipment from Finjets production. All Guinoxs must be protected from freezing conditions. Care should be taken with handling procedures and equipment to avoid the formation of foam.
Contact Us
B No. 76-1, Tangyuan Road, Wuzhou, Guangxi, 543000, China
Phone :+8613877417743