Finganox 4314 Modified Rosin Resin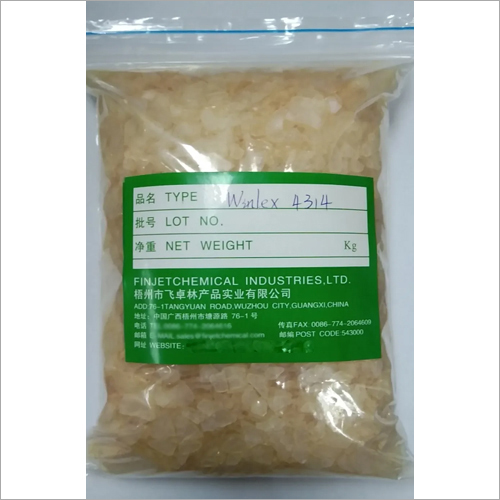 Finganox 4314 Modified Rosin Resin
Product Description
Finganox4314 is a stabilized and light color rosin-modified unsaturated acid esters, designed for use in .E. type gravure and flexographic inks. It is compatible with nitrocellulose, polyketone resins, shellac and other modifiers commonly used in alcohol based printing inks.

Finganox4314 is also soluble in aqueous ammonia and amines making it suitable for use in water-based flexographic and gravure inks.
PRODUCT PROPERTIES

Acid Value(mgKOH/g)..190-220
Softening Point, Ring & Ball, .140-155
Color, Gardner,Max.. 8
FEATURES
Soluble in alcoholic solvents.
Nitrocellulose compatibility, Exceptional resin for use in .E. Type gravure and flexo inks.
Compatible with a wide range of solvents and resins. Improved flexibility in formulating.
SUGGESTED APPLICATIONS
Water soluble printing inks and paints.
Alcohol soluble printing inks, paints and glazing oils.
Welding aids,etc.
Film forming resin for nitrocellulose based .E. Type packaging-gravure inks.
Aqueous flexo and gravure inks for paper and board substrates.

AVAILABLE FORMS/PACKAGING
Lump or flake, 25kg net in new paper-plastics compound sacks.
STORAGE
Prolonged storage should be avoided due to the potential effect on performance.
SAFETY INFORMATION
Please refer to Material Safety Data Sheet.
METHODS OF ANALYSIS
ASTM D 465-591
ASTM E 28-67
FinjetChemical method available on request.
Contact Us
B No. 76-1, Tangyuan Road, Wuzhou, Guangxi, 543000, China
Phone :+8613877417743