Finganox 4303 Maleic Modified Resin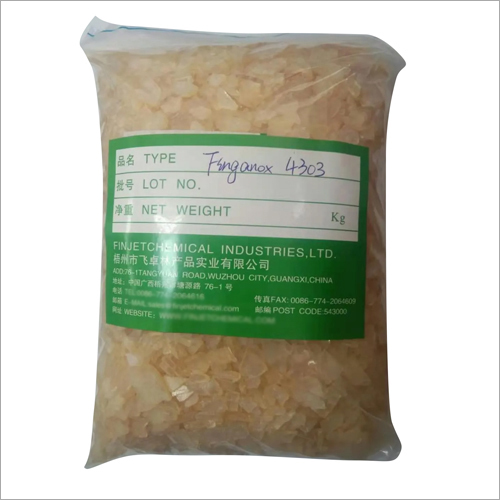 Finganox 4303 Maleic Modified Resin
Product Description
Finganox 4303 is a maleic modified ester of gum rosin. It is a general purpose lacquer resin with high alcohol tolerance, good color retention and fast solvent release. Finganox 4303 is used in nitrocellulose coating lacquers and traffic paints.
PRODUCT PROPERTIES

AppearanceSolid flake, brown color
Acid Value(mgKOH/g),Max 20-30
Softening Point, Ring & Ball, .125-130
Color, Gardner,Max6
SOLUBILITY
Aromatic Hydrocarbon :

Soluble

Ester :

Soluble

Mineral Spirit

Partial Soluble

Methyl Alcohol

Insoluble
COMPATIBILITY
Nitrocellulose :

compatible

Alkyd Resin :

compatible

Amino Resin :

compatible

PU Resin :

compatible

Acrylic Resin :

incompatible
SUGGESTED APPLICATIONS
Polyester paints, lacquers, PU paints and road marking paints.

SUGGESTED FORMULATION

Mix Thinner 340 5. DBP 25
.Finganox4303 20 6.BCS 25
Alkyd Resin 352.70 200 7.Laveling Agent 6
1/4 Nitrocellulose 190
Mix Thinner

Toluene 600 Butyl Acetate 200
Ethyl Acetate 200 MIBK 200
AVAILABLE FORMS/PACKAGING
Flaked, 25kg net in new paper-plastics compound sacks.
SAFETY INFORMATION
Please refer to Material Safety Data Sheet.

METHODS OF ANALYSIS

ASTM D 465-591

ASTM E 28-67
FinjetChemical method available on request.
Contact Us
B No. 76-1, Tangyuan Road, Wuzhou, Guangxi, 543000, China
Phone :+8613877417743